Marfan Awareness Month in February
Hi Chronic Pain Partners,
Thank you for everything you are doing to raise awareness for Marfan Awareness Month! We love your stories, your shout-outs, and the fun and creative ways you're heightening the understanding of Marfan, Loeys Dietz, vascular Ehlers Danlos, and other related conditions this month!
We know you agree: #AwarenessFeelsGood!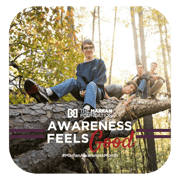 Now, we are gearing up for Marfan Awareness Day of Giving, February 15. All funds raised will go to education and awareness.
By participating, you will help:
Provide doctors with up-to-date information on diagnosis and treatment
Reach school nurses with information that protects our children
Raise awareness among the general public
Mark your calendar now for February 15, 2019! Early donations are open, so if you'd like to give now, all donations count toward our Marfan Awareness Day of Giving totals!
You can contribute to this special fund either online, or by creating a Facebook fundraiser that you can share with your friends and family.
Friend, awareness feels SO good, and, with your support this Friday, we'll be able to do even more!
I hope you'll join us this Friday!
Eileen Masciale, Chief Program Officer